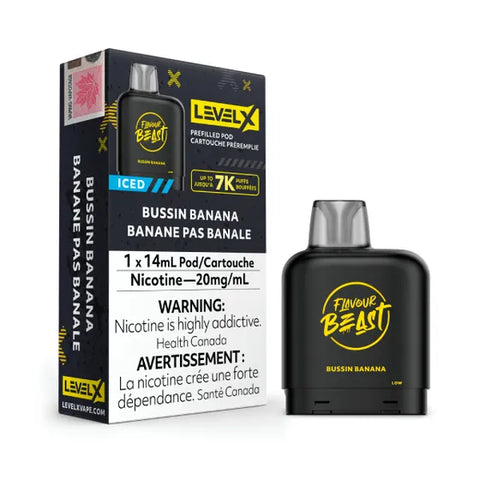 Level X Flavour Beast Pod 14mL - Bussin' Banana Iced
Bussin' Banana Iced - Search no more for the best tasting banana flavour that your tastebuds have ever had the pleasure of tasting. It's not disgusting, it's BUSSIN!
Take it to the next level with LEVEL X, the new generation of snappable high-power closed pod systems that will transform your vaping experience from ordinary to X-traordinary.
With its cutting-edge technology and innovative design, LEVEL X goes the extra mile, allowing you to:
Experience your favorite Flavour Beast ultra-sweet flavours in a snap
Enjoy up to 7000 exhilarating puffs thanks to the high-mL capacity
Savour a completely customizable experience with an easy-adjustable switching airflow and battery indicator
Indulge in an extra satisfying and environmentalfriendly vaping journey
Level X Flavour Beast Pod Key Features:
Beast pod capacity that will last you for up to 7000 puffs
Save more with reusable battery format
Soft Anti-Slip Grip
Switch between high and low airflow in a twist
Comfortable Mouth Piece
Level X Flavour Beast Pod Specifications:
Size: 45 x 24 x 25 mm
Coil: 1.1Ω Mesh coil
Liquid Volume: 14 mL
Nicotine content: 20mg/mL