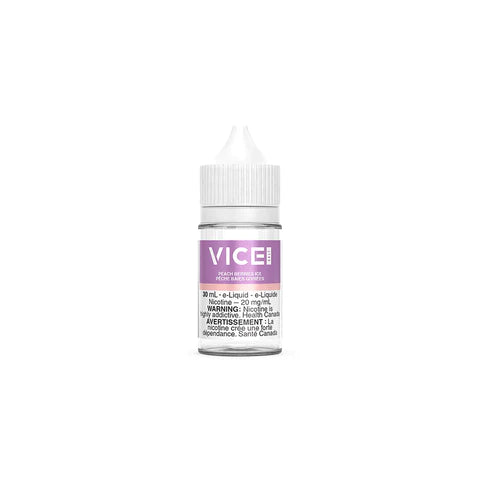 PEACH BERRIES ICE BY VICE SALT
PEACH BERRIES ICE BY VICE SALT
Introducing Peach Berries Ice by VICE SALT, a tantalizing E-liquid that combines the succulent sweetness of ripe peaches with the delightful tang of mixed berries, all infused with a refreshing blast of icy coolness. Get ready to embark on a flavor journey that will leave you craving for more.
With every inhale, your taste buds will be greeted by the juicy essence of sun-ripened peaches. Experience the mouthwatering notes of this beloved fruit as its natural sweetness envelops your palate, creating a truly satisfying vaping experience.
As the vapor unfolds, the medley of mixed berries joins the party. The fusion of strawberries, raspberries, and blueberries adds a burst of tanginess, perfectly complementing the peachy goodness and providing layers of depth to the flavor profile.
But it doesn't stop there. The icy coolness takes center stage on the exhale, delivering a refreshing and invigorating sensation that will awaken your senses. The combination of fruit and menthol creates a harmonious balance, ensuring a truly satisfying vaping experience from start to finish.
VICE SALT prides itself on delivering a smooth and satisfying throat hit, ensuring that each puff is as enjoyable as it is flavorful. Crafted with precision using high-quality ingredients, Peach Berries Ice guarantees a consistent and premium vaping experience.
For those who seek a delightful blend of peaches, mixed berries, and a cool menthol kick, Peach Berries Ice by VICE SALT is a must-have. Indulge in the perfect fusion of fruity sweetness and refreshing coolness, and let your taste buds rejoice in this exceptional flavor combination.
Flavour Notes:
Vice Salt E-Liquid is NOT intended for use in Sub-Ohm Tank systems. Vice Salt E-Liquid is intended for small pod systems. 
50% VG 50% PG